Longer form content arrives in a few formats. One is them is called Groups - lists of startups focused on a particular vertical / theme / business model.  This week we dive into mental health & wellbeing - some truly inspiring teams there!
work in progress
---
rounds and capital
---
roleplay
---
founder guide
---
TP Membership Circle
We have introduced TP membership circle. It is an impressive community which contributes to all longer-form content we produce, and discusses future topics.
Join now
to support and contribute.
---
ecosystem | mental health and wellbeing group

Overall, the number of health tech startups in Lithuania is pretty astonishing, and this goes beyond the success of Kilo Health. Our half-baked hypothesis is that startups are likely to emerge where something is not working - poor service providers, disappointed users. Does that explain some of the Lithuanian tech scene? Anyhow, health tech is not a wrong thing to focus on - likely there is more value to create for the world compared to BNPL…
Theme
Mental health is certainly growing, with a combination of factors. Stress and anxiety are getting destigmatized by the younger generations, but it has hit new extreme lows during the pandemic. At the same time, a number of solutions became available with the rise of mobile (meditation apps etc) and, most recently - telemedicine.

Despite the efforts, mental health is not getting better. In 2020, 19% (47.1 million) of people in the U.S. were living with a mental health condition. Similarly, 1 in 4 people will experience a mental health problem of some kind each year in England. NHS reports that the proportion of 5-16 year old boys and girls with a mental health condition grew by almost 50% in the last 3 years.
Why (finally) now
Help is getting "normal" - it's just one of these services people need. It's a vacuum cleaner for the brain, says @levelsio, and a weekly visit for Harry Stebbings (20VC).
Mental health funding saw a 139% increase YoY from 2020 to 2021, reaching a record $5.5B. Most of this growth was spurred by US mental health companies, scoring $4.5B in funding last year. European counterparts raised $651M and Asian companies raised $289M.
More signals - Swedish non-profit focused on improving the mental-well being of young adults has attracted 100 million euros in funding from its founders, Annika Sten Parson and Par-Jorgen Parson (early investor in Spotify).
Mental Health & Wellbeing Group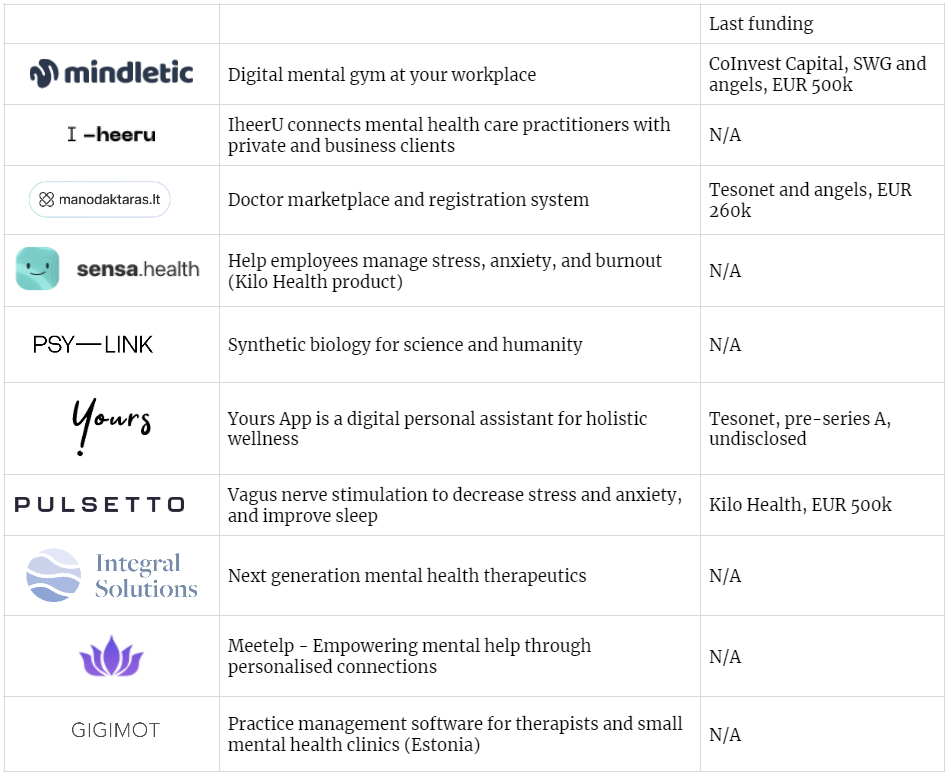 What is unique about building a startup in the mental health space?
Ieva Vaitkeviciute, Founder and CEO, Mindletic
Such startups gather idea-driven, mindful professionals wishing to invest their extra time for growth which is contributing to the personal and a startup growth. Although while scaling a mental health products/service there's a risk of simplifying mental health improvement with "bringing happiness to people". Happiness is not the aim - it couldn't be as it is subjective, therefore hard to measure and is only one aspect of life. The purpose of mental health support is to uplift the individual to face inevitable and different phases of life, train their emotional muscles no matter their current fitness level, increase emotional resilience, bring psychological safety and change unwanted behaviour patterns.
Talking about mental/emotional health
Important for you
---
three questions
Laura Korsakova, Founder and CEO, Psylink

How (and why) did you start Psy-link?
Our story started in 2020, in the midst of the pandemic, when we saw a fierce spike in mental disorders cases worldwide. There are 800 million people suffering from some form of mental health disorder and the numbers are still rising. We believe that psychedelics will disrupt existing treatment models and Psylink aims to be at the forefront of this psychiatric paradigm shift. In addition, we see a major gap in the sustainable and eco-friendly psychedelics supply chain - that's where our co-founders' biotech and Pharma expertise met to help further provide eco-conscious avenues for psychedelic research.

We believe we can create more success stories in Lithuania's biotech sector.
Why biosynthesis instead of other methods, what changed in technology to enable this?
Biosynthesis is a cellular fermentation process with multiple advantages over current alternatives. Extraction of psychedelics from natural sources is limited due to high variability in raw material and low content of active compounds within plant/fungi. Chemically synthesized psychedelics are expensive and produce lots of toxic waste.

Here biosynthesis is a perfect fit -  yeast cells are sustainable mini-factories that can grow on cheap non-complex mineral media. This results in reduced production costs compared to chemical synthesis where expensive primary substrates are used. During the process of biosynthesis, there is no emission of toxic waste as cells are maintained on environmentally-friendly supplements. The whole process of biosynthesis is GMP (Good manufacturing practice) compatible and widely used in the pharmaceutical industry for drug production. Also, it allows to access rare compounds that are hard to harvest due to minuscule amounts in the plant or fungi, so this offers a huge potential to build a library of new proprietary molecules with psychedelic properties.
Help us understand the competitive landscape in this field.
The psychedelic sector landscape focuses on very different stages of the value chain, and various specialities. Many companies operate across various categories, especially platform companies like atai Life Sciences. The main being:
Companies engaged in drug discovery - identifying suitable molecules that have therapeutic potential for improving certain diseases; and/or development - the process of bringing a new drug to market;
Manufacturing & synthesis

(Psylink currently falls in 1st and 2nd category)

Treatment clinics & wellness centres offering psychedelic-assisted psychotherapy
Companies marketing psychedelic-related consumer packaged goods (CPGs)
---