Contrarian Ventures launches a new Seed fund targeting €100m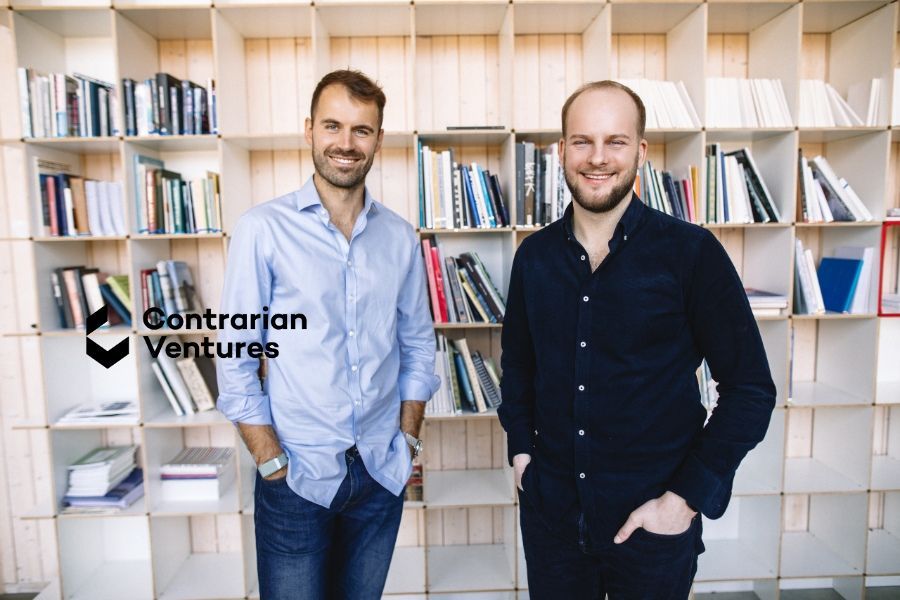 Special newsletter release to announce the new Contrarian Ventures fund and dive deeper into how they have emerged in the European venture scene.
the new fund
Contrarian Ventures happens to be Europe's first seed-stage climate tech VCs. Now they launched the second fund, targeting €100m and have already completed a significant first closing.

New fund sees Contrarian Ventures grow from Europe's smallest Seed fund to one of its largest having completed 21 deals - including light electric vehicles platform Zoomo, novel hydrogen electrolysis technology developer H2Pro and utility-scale solar software startup PVCase. The firm is finding 4 'soonicorns' (100m EUR+ valuation) in their portfolio already.
---
partners, team, and LPs
Rokas Peciulaitis, a former trader at Bank of America Merril Lynch launched Contrarian Ventures in 2017. He was joined later by Tomas Kemtys, a former M&A banker at Centerview Partners in London.
Among the LPs already investing in Contrarian's fund, the firm mentions Korys Investments, Molten Ventures, and the Grantham Foundation.
Contrarian is looking to become one of the most impactful players in the climate tech sector and is looking to triple the size of its team by expanding its investment team and adding roles such in market research and platform management.
Rumour is that firm is hiring its first investor based in Berlin and eyeing a more permanent office there.
---
edge
Known for its hands-on approach, Contrarian leads rounds, sits on boards, and helps companies scale. The firm believes that focusing on developing excellent relationships with founders sets them apart of the competition.
As a VC fund they have done a lot (just in few years) to connect the wider community in climate, energy & mobility. Contrarian developed Energy Tech Summit (event), Energy Tech  Challengers (competition) and Climate50 (platform).
---
four questions for Rokas Peciulaitis, managing partner

Lots of new climate capital announcements, and generalist funds getting into this space - will we fall short of founders in climate?
While the market is gaining momentum, we believe there is still a lack of capital for Climate Tech entrepreneurs (especially at the seed stage) compared to the size of the overall opportunity in Climate Tech. We are convinced that there isn't a category-defining leader at the seed stage in Europe yet, and our ambition is to build a firm that becomes one. However, we see more and more serial entrepreneurs realising the opportunity and delving into building climate tech companies. We are convinced this will be the catalyst for new companies in the space. We think it's not a mere opportunistic focus by founders, but a generational shift, where founders want to make an impact, not just a quick return.

You started off with a tiny fund, in a new domain, and a small local market. What were the key operating principles that allowed you to quickly build a reputation in this space?
We joke that despite only five years since we founded the firm, we are sometimes called OGs in the sector (at least in seed in Europe). Indeed we were at that time and to this date (in the fund I) context the smallest fund in climate tech, and with the new fund growing into one of the largest.
At the time, the lack of resources available to us unlocked creativity and a bootstrap mode in the team. We approached building a VC firm similar to building a company/product. Everything we did, was built to last, to have a real use case, or solve a problem for us or our "clients" - founders. This, back then in 2017, was not a common approach VC firms took. Being agile, dynamic, and hungry helped us to build a spot in the industry. But we never take anything for granted and evolve to be relevant and best serve our founders and LPs. So, it's just the beginning of our long journey as a team and firm.

Geographically focused funds often lack investor networks beyond the local market. Contrarian started international from day one, and most deals are outside Baltics. How do you join deals, and create value for other investors and founders while being remote?

We are a sector-focused firm, thus it is by design that, in your sector, you have to know everyone globally to remain relevant. From day 1, it was our utmost priority to be relevant in a global community context, so we went around building a community platform. A community where we brought together all our peers -  investors, corporates, startups, and policymakers and built lasting relationships which led to dealflow, technical discussions on deals/tech, and always common goals we work towards. Bottom line we believe that we all are fighting against time in climate change. We think TEAM - 'Together Everyone Achieves More'. We believe this approach in the early days set us apart, and we will continue pursuing it. We are building a distributed team, which is in "the cloud" and just added a new investment team member that will be based in Berlin. We will continue to expand these hubs to London, Nordics and other areas where we can be close to founder/dealfow.
One of your top performing startups is Lithuanian PVcase. What are Baltic / Lithuanian ecosystems missing to have many more climate startups?
When we started in 2017, there were 6 companies in Lithuania that could be attributable to Climate Tech. Today, the landscape is entirely different. The best driving force behind particular sector hubs formation is success stories. PVcase is one great example you mentioned, which could lead to new alumni companies that happened in Skype, Wise, Pipedrive, and Vinted cases. This will not be an exception, and while we focus on broader Europe, we are certain some great companies in Climate Tech will be born in Baltics. We want to meet them before anyone else does, as we think we can help them in their journey!
---